The sun hoody market has gone crazy over the last couple of years. We've learned that covering up with UPF 50 clothing protects much better than using the best SPF 50 sunscreens. Plus it means spending less time applying and re-applying sunscreen. Jump to list of recommended sun hoodies.
This post reviews the best sun hoodies I've found for kayaking, hiking, surfing and guiding whitewater rafting trips. Ideally, sun hoodies provide insulation from the sun while allowing for plenty of air flow and athletic movement. While some sun hoodies are better than others, choosing a specific sun hoody depends mostly upon the time spent in the water and the type of activity.
Airflow
Airflow is key, just look at hot areas where people have lived for generations like the Middle East. People layer up with loose fitting clothes that insulate from the heat of the sun while allowing for continual airflow. The best modern sun hoodies have open collars and wrists to allow air to flow between the skin and the shirt. Tight fitting shirts in the shoulders, arms and chest also limit air movement. One of the problems with the finger holes in the sleeves of sun hoodies is when used they cause the arms to not be able to have air flow. A similar issue exists with the sewn in face shields that limit the flow of air up through the neck.
The second way airflow works for sun hoodies is by using breathable fabric. However, materials that are more breathable tend to provide less sun protection creating a trade off.
Insulation
While it might sound silly to wear insulation on a hot day having the right thickness material helps keep the heat and skin damaging UV rays from getting to your skin. The insulation of thicker sun hoodies works best with proper airflow. Patagonia had to recall some of their sun hoodies because they were not blocking the amount of sun advertised.
I've noticed with other thin sun shirts that I can feel the sun through them more than I'd like and after a bit they get even thinner. This was a bad problem with the Freefly hoodies which thin out incredibly fast. Having a shirt that is a little thicker is an advantage for durability and UV protection.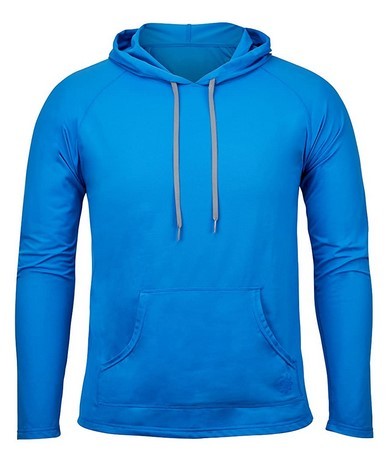 Why have a hood
The hood allows for better sun protection when the sun is at an angle or reflecting off the water. Many days on the river I'll wear my hood underneath my large brimmed hat to keep that angled and reflected light off my neck and the side of my face. On windy days when my large brimmed hat will not stay on I'll wear my hood over a baseball cap. This works even better when the hood has a draw string like the UV Skinz model.
Hood Size
Some new hoods like with the Willits sun hoody are too small to be able to pull forward on your hat to block sun coming in from the side. Ideally the hood can be pulled over a helmet as well.
Alternative to a hood
Like hoods, neck gaiters also known as Buffs, do an excellent job of protecting your neck and ears. Neck gaiters have some advantages over hoods. On windy days they can be used to help hold down your hat. They can also be pulled up to cover more of your face. In general they are hotter and more restrictive.
I like how they perform when surfing, paddling and kayaking where I am wet an less concerned about airflow. They also minimize the amount of water that get drilled into my ears if I take a wave sideways. Neck gaiters are great for young kids who have a hard time keeping a hood on.
Swimming versus Land Use
Sun hoody performance is directly rated to the design and how you plan to use the shirt. The two main uses are in a dry or wet environment.
In a wet environment like surfing or kayaking your sunshirt will be wet much the time and it is helpful to have one that stretches more like a rash guard. I've found the NRS sunhoodies work well for this. They have some spandex in them that allows for an excellent range of motion when wet. It also helps to have a more form fitting shirt. Most sun hoodies get clingy when wet, making it difficult to swim almost like wearing a cotton shirt. This is particularly true for Freefly and Patagonia's Tropic hoodies.
In the dry environment when hiking, backpacking or sitting up on an oar raft rowing flat water the form fitting and spandex sun hoodies like the NRS's do not breath nearly as well. They also tend to stink pretty fast. I'm a fan of thicker weaves that provide good insulation and allow maximum airflow for these dryer conditions.
Durability
Sun hoodies vary dramatically in their durability. The natural fiber hoodies made with bamboo or wool don't hold up nearly as well. First they typically to get thin quickly so that they block minimal sun and second they seem to get holes in them easily if you are hiking through brush or even just from washing them. This is a common problem with Free Fly sun hoodies.
Pockets
The upper arm pocket works well for smaller items. Kangaroo pouch pockets in the front are nice for temporarily storing larger items like a phone when you need two hands. However, kangaroo and chest pockets don't work well under a PFD. They are uncomfortable and difficult to access when wearing a PFD.
Sun Hoody Brands
Here are some popular sun hoody brands along with the advantages of each brand. UV Skinz and Simms shirts are more expensive but have better quality and durability than the other cheaper brands. Freefly hoodies are also more expensive but are probably makes the least durable sun shirts.
Many of the random sun shirts on Amazon work well and are way less expensive. There can be some sizing issues with these shirts as well as the hood's being small.
UV Skinz
More expensive but thicker nicer material. Some people don't like the thicker material but it definitely feels like it blocks the sun better, just be sure that it is loose fitting. A draw string on the hood makes the hood much more usable in the wind. Best for dry environments since the material isn't as stretchy. They also make nice kids' sun hoodies.
Willits/BALEAF
These are two cheap sun hoodies that can be purchased through Amazon. Their price point is great and they do an adequate job of protecting from the sun. The hoods tend to be on the small size not providing the best coverage and they are a little tighter fitting than is ideal. The material isn't that stretchy so they are best for dry environments.
NRS Sun Hoodie
Durable, excellent in the water, stink quickly, minimal breathability and form fitting so less airflow. Best choice if you are spending lots of time soaked or in the water. Hood is big enough. They are similar to loose fitting rash guard.
Freefly
Most comfortable material, doesn't get stinky as fast, not durable and material thins out quickly. These are my favorite shirts in terms of feel. I used to get on each year from an outfitter I worked for. I like to wear 2 at once to get adequate sun coverage since the material seems to stretch out and not provide that good of coverage.
The biggest problem I've seen with them is if you use a backpack the straps wear through the material on the shoulders extremely quickily. Netdraw makes a knock-off bamboo hoodie that is around $38 versus $68 from Free Fly. The hood seems a little bigger on the Free Fly version. The bamboo shirts are not fun to swim in.
Simms
You pay a little more for Simms products but they are generally worth it. Their sun hoodie holds up well and is nice enough to wear to a bar-b-que. Simms makes equipment and clothing for fishing so their shirts work best on the water rather than in the water.
Lands End – Kids' Sun Hoodies
Lands End makes a high quality sun hoodie for kids at a reasonable price. Comfortable material, nice sized hood, good price point
Men's and Women's Sun Hoodies
Sunshirt
Details
Link to Product
Women's
Willits
$20
basic inexpensive hoodie
UPF 50 rating
hood tends to be small
fit true to size
breathes pretty well
lots of color options
NRS
$65
Durable
stretchy when wet
best option if wet
UPF 50
breathes poorly
Simms
$45-$85
higher quality
breathes well
UPF 50

UV Skinz
$58
thicker material
higher quality
durable
UPF 50
hood draw strings
bigger hood
Netdraw
Bamboo
Sun Hoody
$34

less smelly
less durable
better value than Freefly
UPF 50
67.5% Viscose from Bamboo
27.5% Cotton/5% Spandex
Boy's and Girl's Sun Hoodies
Kids Sunshirt
Details
Link to Product
Girl's
BALEAF
HMILES
$24
basic inexpensive hoodie
UPF 50 rating
hood tends to be small
fit true to size
breathes pretty well
lots of color options
Lands End Kids
$35
Hides stains
comfortable
light weight
UPF 50
Fits smaller kids/toddlers
UV Skinz Kids
$38
thicker material
durable
UPF 50
chlorine resistant
Concluding Thoughts on Sun Hoodies
All of these sun hoodies work well and make a day in the sun much more enjoyable. The ideal shirt depends upon whether or not you plan to be wet while using it. You can read more about protecting yourself from the sun while playing outside.