Paradise to Race Creek
_____________________
Length: 40 miles / 3 or 6 days
Class: IV – IV+; IV-V above 5 feet
Gradient: 30 ft/mile
Shuttle: 6.5 hours / 246 miles
Season: Spring / Summer
Recommended Flows: 1 to 6 ft at Put-in; 800 to 20,000 cfs at Lowell

Selway River Overview
Selway River Rafting trips are arguably the best multi-day whitewater experience in the west. Flowing out of the Bitterroot Mountains in the heart of the Selway-Bitterroot Wilderness Area, the Selway name (Sel-wah) originates from a Nez Perce (Niimíipuu) word for smooth water. The Lochsa River, Selway's sister river just to the north, means rough water. Luckily the Selway River is anything but smooth floating.
No other river can claim to be a charter member of both the Wilderness Act of 1964 and the Wild and Scenic River Act in 1968. Surrounded by over a million acres of wild lands and with only one launch per day, rafting the Selway provides a truly world class wilderness experience.
With only 16 total commercial trips a season and each launch limited to 12 guests, Selway River rafting trips are booked years in advance.
Private boaters have to win the river lottery with the longest odds in the country. The non-lottery runs on the Jarbidge/Bruneau and Illinois River of Southern Oregon are worthy alternatives for those seeking to do private or commercial river trips.
The best time to float the Selway is typically late June and early July. The fishing is unbeatable in July on low water Selway trips. If you are looking for reading material we have our favorite Selway rafting books.
Fishing
Selway River fishing is fantastic when the water level is below 1.5 feet on the put-in gauge. Be aware, it is catch-and-release on the Selway with only one barbless hook per fly or lure (artificial flies and lures only). While all tributaries have a 2 trout per day limit with no tackle restrictions. Cutthroat Trout (10 – 14 inches) are the most common fish on the Selway, while there are also Bull Trout, Mountain Whitefish, Steelhead, and Chinook Salmon.
Video about Fishing the Selway River
Limited Access
For private boaters there is a challenging lottery. With one launch allowed per day, only 16 people per trip, a priority season of two and a half months makes for limited opportunities to win a launch. In addition multiple weeks of the season typically have very high and/or very low water making the window even smaller for most boaters. Winning the lottery and getting to kayak or raft the Selway River is a once-in-a-lifetime opportunity.
Highwater Selway River Rafting Video
At peak run-off the Selway has huge waves and holes. Mistakes can be costly with flipped rafts occasionally travel 15 miles downstream before being recovered. Unfortunately many groups feel pressure to go when the river conditions are at dangerous levels due to the difficulty in procuring a spot on a trip. The optimal (non-highwater) flow for rafting the Selway River is between 2 and 3 feet on the Paradise Gauge. As river flows gets lower or higher the Selway becomes much harder.
Getting on the river
There are 4 ways to get on this river. Sign up for a commercial rafting trip, win the lottery, pick up a cancellation, or get on the river pre or post-permit season.
Private Permit Season
The lottery season is May 15 to July 31 and applied for as part of the 4 Rivers Lottery which also includes the Middle Fork Salmon, Main Salmon, and Hell's Canyon of the Snake. The lottery is open December 1 through midnight Eastern time on January 31. Lottery results are typically posted mid February. While, cancellations are found here and confirmed by calling 1-877-444-6777 through www.recreation.gov.
Pre and Post-Permit Season Trips
Selway River Rafting trips outside of the lottery season do not require a permit. However, pre-season trips need to be off the water by May 15th and make sure to check with the West Fork Ranger Station (406-821-3269) to see if the Nez Perce pass is clear of snow.
If the pass isn't clear of snow, it is also possible to pay for "Juice" with Mountains to Waves Shuttles (406-207-2021) to take you on a fun ride over the pass with fat tired vehicle specifically designed for the journey. April can be really cold, so can May but the weather is typically better in early May.
Commercial Selway River Rafting Outfitters
There are only 4 commercial rafting outfitters on the Selway River in Idaho. They each have the same 4 launch days during the permit season every year. Trip length varies between 5 and 6 days. Many 6 day trips have two layover days where this is no rafting. Most 5 days trips do a layover day at Moose Creek which is a fantastic place to hang out. The sixth day for late season trips is nice since the river moves more slowly. Some outfitters also offer late season fishing trips.
For those looking for the legendary Selway big water rafting want to launch on trips in June . Those that don't want big waves try trips after the first week of July. These are estimates. It seems that the runoff in Northern Idaho is coming much earlier than it did a decade ago.
Outfitters are also allowed to run pre and post season trips. At these times particularly post-permit season there can be many private boaters on the water.
Yearly Launches: June 28th (5 day), July 5th (5 day), July 12th (5 day) and July 18th (6 day)
Yearly Launches: June 22th (5 day), June 30th (5 day), July 8th (5 day) and July 16th (5 day)
Yearly Launches: June 23th (6 day), July 1st (6 day), July 9th (6 day) and July 17th (6 day)
Yearly Launches: June 18th (5 day), June 26th (5 day), July 14th (6 day) and July 25th (6 day)
Shuttles
Pat Sullivan at Central Idaho River Shuttles: 208-507-1830
Huckleberry Taxi – they can shuttle people from Lowell back to Missoula. Call Heidi Hammermister: 406-369-3520
All River Shuttles: 208-553-5411
***There can be confusion when setting shuttle times. In this area of Montana (where you drive during the shuttle) is in Mountain Time but the entire Selway River is in Idaho and on Pacific Time.
---
Selway River Mile-by-Mile Guide
Mile 0: Put-in
The Paradise put-in is at the confluence of the Selway River and White Cap Creek. There is a bathroom and a nice ramp to get the boats to river level. At low water it can still be a carry to the water from the bottom of the ramp. It's handy to bring some extra thwarts along to act as rollers to get rafts from the bottom of the ramp to the water as they are doing in the photo above.
If you are thinking of loading your rafts at the top of the ramp it is nice to belay them down to prevent them from gaining too much speed and ending up in the river. More than one raft has shot into the river and floated downstream without anyone at the oars.
There is an alternative put-in half a mile up White Cap Creek. People have run the section of the Selway along the road above Paradise. It can have a fair amount of wood and there have been fatalities in the road section.
Mile 3.5: Slalom Slide (III)
Slalom Slide is a fun boulder garden. At mile 4.2 is Galloping Gertie (III) followed immediately by Washer Woman (III-IV) which is tough at low water. Below are some more fun rapids with Holy Smokes (III-IV) being the last one before the canyon starts to open up.
Mile 6.6: Running Creek Bridge
The main trail is on river right. This is the first opportunity below put-in to cross the river on foot. The canyon opens up here for a few miles until Goat Creek Rapid. The Running Creek Ranch is just downstream on river left.
Mile 9.3: Ping Pong Alley (III)
At low water plan to spend some time here. There are many poor routes and getting out to push is a common technique.
Mile 11.5: Goat Creek Rapid (III-IV)
A long beautiful rapid that winds through house sized rocks.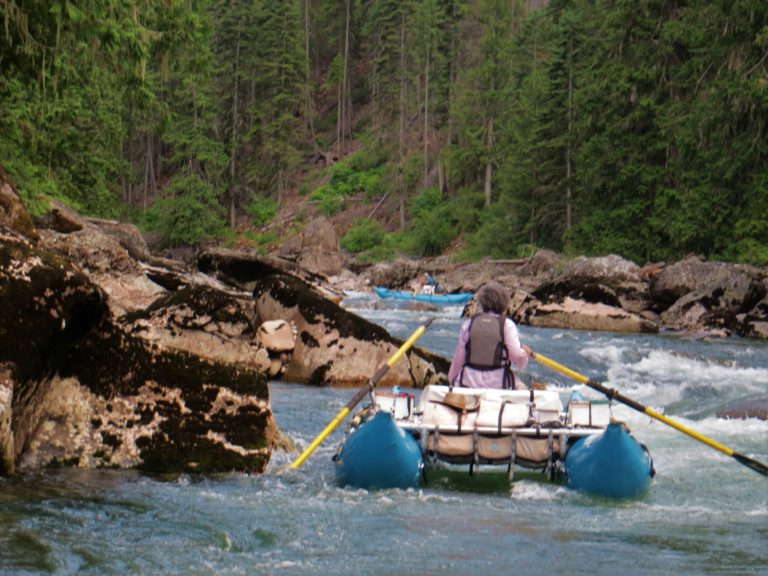 Mile 13.7: Sheerer Landing Strip
One of 2 public landing strips along the Selway River.
Mile 16.0: Bear Creek
Bear Creek increases the flow of the river by about a 1/3. There is a nice trail up Bear Creek to the Salmon Hole, a beautiful swimming, fishing and hunting spot. Bears are known to congregate at the Salmon Hole to do their own fishing. The Niimíipuu used to set up summer camps along the creek to hunt and fish.
Mile 23.3: Ham Rapid (IV)
Be wary of False Ham (III+) just upstream of Ham. At Ham the river narrows down with a couple of huge rocks to avoid, they become holes at highwater.
Mile 26.0: Tony Point Bridge
The Tony Point area is popular for laying over. There are camps above and below to bridge on river right and then a third camp downstream on river left below Tony Point Rapid (mile 26.1). From here there are trails to the Moose Creek Ranger Station, up Moose Creek and to Shissler Peak Fire Lookout. This is a common area to spend two nights to have a full day to explore the area. Keep an eye out for the planes that soar into the Moose Creek Landing Strip.
Mile 26.2 Moose Creek
The flow typically increases by 1/3 from Moose Creek. It is possible to paddle Moose Creek. Just downstream is the Moose Juice series of rapids where the gradient increases to 50 feet per mile.
Mile 26.5 – 29.5: Rafting the Moose Juice (IV – V)
This is an infamous series of big rapids: Double Drop, Wa-Poots, Ladle, Little Niagra, Puzzle Creek, No Slouch, and Miranda Jane.
Double Drop can be scouted on river left at highwater. Wa-Poots is a sneaky rapid that shouldn't be over looked. At most flows Ladle is scouted on the right. At very low water the preferred line is down the far left.
Mile 31.5: Osprey Rapid (III+)
On a hard bend to the right Osprey Rapid winds through a rock filed before taking a hard turn back to the left. This is a tricky rapid.
Mile 34.6 Three Links Bridge and Creek
One of the few places to cross the Selway River by foot, the Three Links Bridge is the original crossing for the Idaho Centennial Trail. Unfortunately the trail coming down Mink Creek and up Three Links Creek has not been maintained and hikers of the Centennial Trail now cross the river upstream at Tony Point. If you are thinking of exploring the trail up Three Links, I've run into multiple rattlesnakes every time I've attempted it.
Mile 37.7: Wolf Creek Rapid (IV+)
At the end of a long calm section, there is a nice eddy just above the rapid to scout on the right.
Mile 40.4: Tee Kem Falls (IV-)
A tricky little rapid that requires sneaking between a big rock pour over and the right wall.
Mile 47.7: Race Creek Take Out
On river right. The carry up to the road is pretty steep.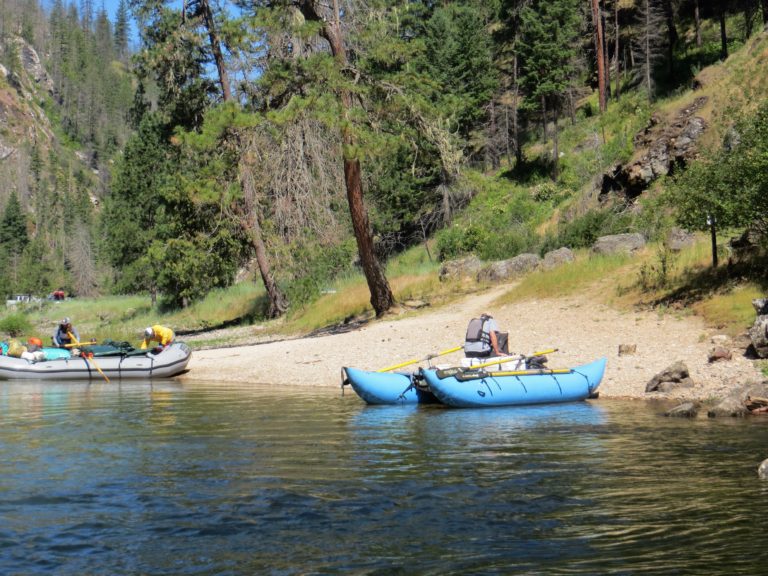 Mile 49: Selway Falls (VI)
Below take out is a nasty class VI rapid, Selway Falls. It's been run.