Overview
A Grand Canyon rafting or kayaking trip is the best of western river expeditions and arguably the top river trip in the world. Starting just south of the Arizona/Utah border the Colorado River flows unhindered from Glen Canyon Dam almost 300 miles to Lake Mead.
Grand Canyon rapids have some of the largest waves of rafting rivers anywhere. Another unique aspect of these trips is the ability to spend two-weeks floating downstream. However, the exquisite scenery and countless side hikes are the most memorable parts of the trip. A whitewater rafting or kayaking trip through Grand Canyon is a truly unique experience.
The key is how to get on a trip. Many Grand Canyon rafting outfitters are booked years in advance, and the weighted lottery system is not easy to win so plan ahead. That being said, for small groups with some date flexibility there are always last minute trips that become available. Interested in one day of rafting in Grand Canyon check out our article on the 1-day Grand Canyon rafting options.
Lee's Ferry to Pearce's Ferry
_____________________
When to raft the Grand Canyon
One of the most common questions is when is the best time to raft the Colorado River. The obvious answer is whenever you can get on a trip. That being said, it is really about personal preference. Grand Canyon in the spring has wild flowers, milder temperatures and tends to be more windy particularly in May. While June and July are hot and dry until monsoon season start, meaning the Little Colorado is typically vibrant clear blue water. Some try to time the high water of July and August to see the biggest whitewater the Grand Canyon has to offer.
Monsoon Season
Monsoon season in Grand Canyon starts in late July and continues through August. Monsoons bring afternoon thunderstorms that cool down temperatures and can lead to amazing sights of hundreds of waterfalls of different colors cascading into the river. Unfortunately, this rules out certain hikes at times due to lightning and flash flood concerns. The fall is cooler, a little dryer and the days are shorter. As a result the hiking options become endless. Winter temperatures can be cold at the bottom of the Grand Canyon where the sun never reaches the river, however there are less people on the water.
Grand Canyon Rafting and Kayaking Map
Luxury Rafting Options
For those looking for luxury rafting trips like the Rogue River Lodge trips in Oregon and safari camping trips on the Middle Fork of the Salmon River in Idaho will be disappointed. Due to the way the river is managed by the National Park Service the outfitters are unable to offer luxury trips. That being said, it's worth roughing it for a week or two and experience one of the seven natural wonders of the world.
Rating System for the Colorado River
This section of river is unique in that it doesn't use the level I – V International Scale of River Difficulty that is used on most whitewater rivers world wide. Instead it uses a 1 through 10 system. A 10 is arguably like a class IV+ rapid. Cataract Canyon, just upstream from Lake Powell also uses this rating system.
Recommended Grand Canyon Rafting Books
Best Grand Canyon Rafting Trips
While spending two to three weeks on the river is one of the special aspects of this trip, there are options for one, two, three, and four day trips. To raft the whole Grand Canyon but in less time, river runners will take a motorized trip. Others hike in and out of the Grand Canyon at Phantom Ranch to be able to do a week long upper or lower canyon trip. Flying in or out by helicopter at Whitmore Wash is also an option. For those flying in at Whitmore, it is possible to do a 3-day western canyon river trip.
The best and most popular oar trips are the 6-day upper, 8-day lower, and 14-day full Grand Canyon tours. The best motor trip is the 8-day full river tour. All of these options provide an opportunity to be immersed in the canyon and unwind. If you are not sure which trip you want, consider contacting a booking agent like Rivers and Oceans. They work with outfitters so they know all the options and you can make one phone call instead of calling all 16 outfitters.
Where to End Your Grand Canyon River Trip
Finally there are the options of taking out. Most trip go from Lees Ferry to Diamond Creek. However Diamond Creek is quite expensive and can get washed out during rain storms or adding another 50+ miles with some fun rapids and serious flatwater rowing to Pearce Ferry. Outfitters provide a jet boat when taking out at Pearce Ferry to make the journey must faster. The Hualapai Tribe offers one-day and two-day trips from Diamond Creek downstream (sometimes called a Diamond down) with an optional helicopter ride out of the Grand Canyon. There are also smooth water rafting trips in the area.
Those doing the first half of the Grand Canyon end their trip with an 8-mile hike out of the Grand Canyon to the South Rim. It is nice to spend a night at the rim when you finish your hike.
Video: Rafting Grand Canyon's Major Rapids
Resources
Two nice resources that make camping easier:
Grand Canyon Rafting Camp Sun/Shade Information – Fairly accurate listing to the of day shade reaches camps during each moth of the year.
Tides for the Colorado River in Grand Canyon – Shows when the river will be rising and following depending upon how far downstream a party is and how high the river is. Helpful for avoiding waking up to beached rafts in the morning.
Outfitter Spotlight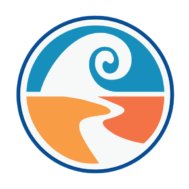 Grand Canyon Rapids & Highlights
Mile 0: Put-in at Lees Ferry
Put-in at Lees Ferry. The right side of the beach is for private trips and the left side is for commercial trips. The National Park rangers will show up to check your pfds and make sure you are bringing all the required equipment. There is a smooth water float trip that starts upstream at the base of Glen Canyon Dam and ends here. This is a nice day trip but for those wanting rapids the one-day Diamond down rafting trips are a better option.
Mile 0.3: Paria River + Riffle (1)
The Paria River enters on river right. This "river" typically runs like a creek until a local storm brings the flow up for a couple of days. The Paria adds much of the sand that is in the corridor and also is one of the drainages that commonly causes the river to turn brown. The riffle has some fun waves and many times will be the last time a trip sees clear water.
Mile 2.8: Cathedral Wash (2)
Fun waves, enter in the tongue on the left side of the river.
Mile 4.2: Navajo Bridges
The original bridge was completed in 1929 and the new bridge was finished in 1995. This is a common spot to see California Condors.
Mile 8.0: Badger Rapid (4-5)
First rapid to give feel for the power of the Colorado River. Avoid a large a hole on the top right by entering left and then enjoy the waves. Rafts have flipped on rocks below this rapid.
Mile 11.4: Soap Creek Rapid (5-7)
The last rapid run in the Grand Canyon. Most boater work right at the top to avoid big features on the left. The left line has been run with varying degrees of success depending upon the flows and a little luck.
Mile 17.1: Brown's Riffle (2)
Frank Brown drowned here during the Stanton Expedition. As the financier of the expedition he felt life jackets were an unnecessary expense. An inscription can be seen below the riffle on a wall on river left in the back of the eddy.
Mile 14.5: Sheer Wall Rapid (3)
More fun waves, there is a kayak line on the far left.
Mile 17.1: House Rock Rapid (5-7)
Grand Canyon's first big rapid with some features on the left that cause rafters trouble. There are two main runs start working right early and stay right or wait and use the current working back left to avoid the features. Option 2 requires T'ing up to a large lateral wave and using it to help push you right. That waves flops more rats then the huge hole behind it. Scout on the left or right.
Mile 17.7 – Redneck Rapid (4)
At certain flows this little rapid can break hard.
Mile 20.7: North Canyon Rapid (4); Start of the Roaring 20's
This starts a fun splashy series of rapids.
Mile 21.4: 21 Mile Rapid (4)
Mile 23.2: 23 Mile Rapid (4)
Keep an eye out for Georgie's when running 23 and 23.5. It is easy to forget which rapid is next.
Mile 23.5: 23.5 Mile Rapid (4)
Mile 24.4: Georgie's Rapid (3-7)
At certain flows this short rapid gets powerful.
Mile 24.7: 24.5 Mile Rapid (5-6)
Bert Loper died while at the oars in this rapid in 1949.
Mile 25.1: Hansbrough-Richards Rapid (6)
Peter Hansbrough and Henry Richards of the Brown party fell out and drowned here.
Mile 25.7: Cave Springs Rapid (5)
Mile 26.9: Tiger Wash Rapid (5-6)
One of the more challenging rapids within the Roaring 20's. Watch out for the boily eddy fences at the bottom. Grand Canyon kayakers have taken some big swims in Tiger Wash watch out for those eddy fences.
Mile 29.4: Silver Grotto/Shinumo Wash Rapid (3) & Camp
Mile 33.3: Redwall Cavern
One of Grand Canyon's iconic spots. This huge shelter is worth a stop.
Mile 36.3: 36 Mile Rapid (4) Mile 39.7
Mile 39.7: Marble Canyon Dam Site
The federal government was extremely close to building a dam here that would have backed the river up past Lee's Ferry. The Sierra Club was instrumental in stopping this dam with a famous national media campaign.
Mile 44.0: President Harding Rapid (4)
Named by the Birdseye expedition due to either the day of mourning after President Harding's death.
Mile 52.4: Nankoweap Rapid (1-3) and Granaries
The Nankoweap trail meets the river here after a long descent from the North Rim along Nankoweap Creek. This is a popular place to camp and hike a steep trail to ancestral Puebloan granaries.
Mile 56.3: Kwagunt Rapid (4-6)
Big fun waves in the entrance before having to pull off a nasty wall on the bottom left.
Mile 60.1: 60 Mile Rapid (4)
Mile 61.5: Little Colorado River
Seeing the sparkling turquoise-blue water contrast with the red and tan walls of the canyon is a sight to see. On river left the Navajo land ends and becomes Grand Canyon National Park land. Some geologist argue that this is the official beginning of the Grand Canyon.
Mile 65.9: Lava Canyon (Chuar) Rapid (2-4)
Mile 69.0: Tanner Rapid (4)
Named after an early miner, Tanner Rapid has fun waves with a breaking wave on the bottom right.
Mile 69.9: Basalt Rapid (3)
Mile 72.9: Unkar Rapid (4-7)
One of the most scenic rapids on the river. Don't wait too long to start working back to the right.
Mile 73.6: 73 Mile Riffle (2)
Mile 75.8: Nevills Rapid (4-7)
Named after Norm Nevills the pioneer of commercial Grand Canyon rafting trips.
Mile 77.1: Hance Rapid (7-8)
The first and one of the more challenging rapids of the Granite Gorge. It is commonly scouted on river right. However, there isn't much time to relax. Downstream are a couple other big rapids, Sockdolager (mile 79.1) and Grapevine (mile 82.1).
Mile 79.1: Sockdolager Rapid (5-7)
Named after knockout punch, this rapid hits with two huge later waves.
Mile 82.1: Grapevine Rapid (6-7)
A tricky entrance leads to big fun waves.
Mile 84.1: 83 Mile Rapid (3-6)
Mile 85.3: Zoroaster Rapid (4-5)
The big waves look fun. Watch out for a sneaky one that breaks hard.
Mile 85.8: 85 Mile Rapid (3)
Mile 88.1: Phantom Ranch Boat Beach
After going under South Kaibab Trail foot bridge there is a large eddy and boat beach on the right. From here it is a 10 minute walk up Bright Angel Creek to Phantom Ranch. Oar and paddle rafts try to land at the middle and upper end of the beach to leave the deeper downstream portion of the beach for motor rafts.
Mile 88.3: Bright Angel Rapid (3)
The rapid flows under Bright Angel Creek bridge with Bright Angel Creek flowing in on the right.
Mile 89.5: Pipe Creek Beach & Rapid (3)
Rafters hiking in and out of the canyon at Phantom Ranch typically use the Bright Angel Trail and leave from the Pipe Creek Beach saving 1.5 miles of hiking along the river.
Mile 90.8: Horn Creek Rapid (7-9)
Horn is the start of the biggest series of rapids within the Granite Gorge. Scout on the right, pull in high to be sure you can get back out to the middle line. At low water this is one of the most challenging rapids on the river.
Mile 93.1: Salt Creek Rapid (3)
Mile 93.9: Granite Falls (7-8)
One of two Grand Canyon rapids that is called a falls. Huge waves come off the right wall at the bottom of the rapid. Scout on river left.
Mile 95.5: Hermit Rapid (7-10)
The Hermit Trail meets the river here. The rapid can be scouted on the left. In July and August Hermit rapid flips many rafts. If you can make it down upright or upside down it is an unforgettable ride.
Mile 97.1: Boucher Rapid (4-5)
Named after the Hermit, Louis Boucher.
Mile 98.2: Crystal Rapid
This is the most notorious rapid in the Grand Canyon. Flipping in the hole at Crystal can lead to an ugly swim through the boulder garden below. Scout on river right. This is the start of the Gems, a fun series of rapids including Tuna, Agate, Sapphire, Turquoise, Emerald, Ruby, and Serpentine.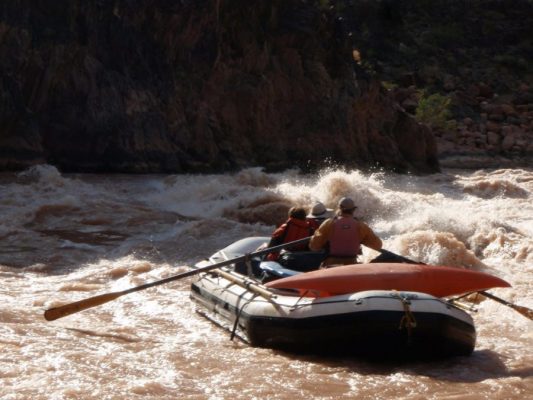 Mile 99.7: Tuna Creek Rapid (4)
This is the start of some fun rafting that continues straight into Willie's Necktie and finishes with Nixon Rock.
Mile 100.0: Willie's Necktie Rapid (5-7)
There are some lateral waves on the outside of the bend. However, be cautious as those waves pack some punch.
Mile 100.1: Nixon Rock (3)
A large rock just right of center where most boaters run left. Watch out for Agnew rock just downstream.
Mile 101.1: Agate Rapid (3)
Back in the gem rapids!
Mile 101.8: Sapphire Rapid (6)
There is a violent hole/wave on the right about two-thirds of the way down the rapid. The feature causes swimmers but rafts typically stay upright.
Mile 102.6: Turquoise Rapid (2-4)
Mile 104.5: Emerald Rapid (4-5)
After two fun straight down the middle rapids be ready for Ruby.
Mile 105.2: Ruby Rapid (5-6)
A fun left bend with some big waves!
Mile 106.5: Serpentine Rapid (6-7)
Avoid the hole and pour over at the top and then hit the big waves at the bottom. There is Zambezi line to the right of the top pour over but it is not recommended.
Mile 108.3: Ross Wheeler Beach and South Bass trailhead
An early expedition decided to quit here and left the metal dory behind.
Mile 108.4: Bass Rapid (3)
Named after William and Ada Bass. William lead tourist trips into the canyon in the end of the 1800's.
Fun waves on the left and the right of the rapid but mean in the middle.
Mile 109.3: Shinumo Rapid (2-3)
Below Shinumo Grotto there is a fun little rapid.
Mile 109.6: 109 Mile Rapid (2)
Beware of some sharp schist just below the water on river right.
Mile 110.0: 110 Mile Rapid (2-3)
This rapid is small but provides good current down around the corner.
Mile 111.4: Hakatai Rapid (2-3)
Run a couple of fun waves on the left side of the "V."
Mile 112.8: Walthenberg Rapid (3-6)
John Walthenberg worked with William Bass and had the Hakatai Mine Claim upstream from here. This rapid has a nice line on the left and right.
Mile 113.6: Rancid Tuna Rock (2)
A fun boily section of river.
Mile 117.2: Elves Chasm
One of the classic short hikes for Grand Canyon rafters. The shorts hikes leads hot adventures to a relaxing grotto with a deep pool.
Mile 119.3: 119 Mile Rapid (2)
Try to find the rumored frame from a raft that flipped in Crystal during the high water of 1983.
Mile 120.6: Blacktail Rapid (3)
Be patient in this rapid to avoid ending up in the eddies on river right and left.
Mile 122.2 – Mile 122 Rapid (4)
Another fun splashy wave train.
Mile 123.3: Forster Rapid (3-6)
Mile 125.5: Fossil Rapid (3-6)
Another long fun rapids with beautiful ledges at the entrance.
Mile 127.5: Wall Banger Rapid (3)
Avoid getting driven into the left wall.
Mile 129.2 – 128 Mile Rapid (4)
Avoid the rock outcropping at the bottom on river left.
Mile 129.7 – Specter Rapid (6)
A fun entrance that at certain flows ends with a big splashy hit.
Mile 131.1: Bedrock Rapid (6-7)
This is a common scout on river right. Avoid going left of the rock island by pulling right. Just downstream is another tough rapid Deubendorff (mile 132.3) which is typically scouted on the left.
Mile 132.3: Deubendorff Rapid (5-8)
One of the more consistently fun and challenging rapids on the river. Avoid the pour over in the middle of the river. Hint: it is more challenging to go right than it looks.
Mile 134.3: Tapeats Creek and Rapid (4)
The hike from here up to Thunder River is probably the best hike in the canyon. A fantastic kayaking side trip is the Tapeats Creek Gorge.
Mile 135.4: Helicopter Eddy Rapid (3)
While it should need to be said, don't go in the helicopter eddy on river left.
Mile 135.6: Granite Narrows
Beautiful calm section of river that contains the narrowest spot on the Colorado in Grand Canyon at 76 feet.
Mile 136.9: Deer Creek Falls
Another must stop, Deer Creek Falls is a spectacular water fall shooting out of a crack in the Tapeats Sandstone. Boaters with a little more time enjoy hiking around above the water fall along the narrows to the relaxing "patio." Strong hikers might journey further up to the throne room.
Mile 138.4: Doris Rapid (4)
Named after Doris Nevilles who took a swim here in the 1940's.
Mile 139.2: 138.5 Mile Rapid (3)
Mile 139.7: Fishtail Rapid (4)
Choose between the mellow line on the right and hitting the big breaking waves on the left.
Mile 141.7: 141 Mile Rapid (2)
Some refreshing little waves in what can be a hot section of the canyon.
Mile 144.0: Kanab Rapid (2-4)
A long mellow rapid at the mouth of Kanab Creek.
Mile 148.4: Matkatamiba Rapid (2)
This rapid becomes challenging when trying to pull into the mouth of Matkatamiba Canyon to do a fun scramble and hike.
Mile 150.2: Upset Rapid (7-8)
The last big rapid above Lava Falls. Scout on river right.
Mile 154.0: Sinyala Rapid (1-2)
Mile 157.3: Havasu Creek and Rapid (3)
A classic side-hike with beautiful turquoise water and impressive travertine formations. The common destination used to be Beaver Falls. However, the Havasupai have done a much better job of marketing their canyon and Beaver Falls is a now a busy place. Plus there is typically a reservation ranger collecting fees of $50 per person.
Mile 165.0: 164 Mile Rapid (2)
Enjoy the small rapids and current in this flatter section of the Grand Canyon.
Mile 167.0: National Rapid (2)
A nice hike up National Canyon take people to narrows and sometimes swimming holes.
Mile 168.5: Fern Glen Rapid (2)
Another nice side-canyon for a hike.
Mile 171.9: Gateway Rapid (3)
The last "bigger" rapid until Lava.
Mile 179.7: Lava Falls (10)
Big fun! The most iconic rapid in the world. Scout on the right at lower water and on the left at higher water.
Video: Grand Canyon Motor Raft in Lava Falls Rapid
Mile 180.1: Lower Lava Rapid (3-4)
Fun waves come off the left wall.
Mile 186.0: 185 Mile Rapid (2)
Infrequent and small rapids but typically good current.
Mile 187.4: Whitmore Heli-pad
Some commercial trips exchange river runners here. Typically these trips start and end in Las Vegas. This area can be noisy with helicopters on busy exchange mornings.
Mile 188.3: Whitmore Rapid (2-3)
Avoid the rock or hole (depending upon flows) in the middle of the river.
Mile 205.6: Kolb Rapid (3-6)
On of the more fun rapids in the lower canyon. Stay on the togue and ride some large waves.
Mile 209.2: 209 Mile Rapid (3)
Most rafters pull left of the large hole in the middle of the river. This rapid is more scary than fun.
Mile 212.5: Little Bastard Rapid (3-5)
At certain flows there is a large hole to avoid.
Mile 213.3: Pumpkin Spring
Swimming in the spring is not recommended.
Mile 216.0: Three Springs Rapid (2)
A fun little wave train after a good deal of flat water.
Mile 217.8: 217 Mile Rapid (4-5)
Another fairly large wave train along the left side of the river.
Mile 219.6: Trail Canyon (Ducky Eater) Rapid (2)
This rapid created some funky hydraulics that can be a problem for kayakers.
Mile 220.7: Granite Spring Rapid (2)
A flash flood from the side canyon on river left caused this rapid to change and be much harder for a bit.
Mile 223.7: 224 Mile Rapid (3)
For many this is the last rapid of their Grand Canyon rafting trip.
Mile 225.9: Diamond Creek Take Out and Rapid (3-4)
A common take-out for Grand Canyon trips. Diamond Creek flashes yearly closing the road and forcing groups to run to Lake Mead. This really means Pearce Ferry which is now above the lake. One day Grand Canyon rafting trips start here.
Mile 229.3: Travertine Rapid (2)
A great side hike to some waterfalls.
Mile 231.2: 231 Mile Rapid (5)
A fun rapid with some big features and pushy water.
Mile 232.5: Killer Fang Falls Rapid (4-7)
This rapid is where many believe the Hydes met their demise. A fun looking wave train leads to some hidden rocks. Pull hard left out of the wave train.
Mile 233.9: 234 Mile Rapid (3-6)
Don't let your guard down after Killer Fang, there are more challenging rapids in the Lower Granite Gorge.
Mile 235.3: Bridge Canyon Rapid (3-5)
Savior one of your last rapids.
Mile 236.0: Gneiss Canyon Rapid (5)
This is the last real rapid before the river starts being packed up due to silt changing the river channel below here.
Mile 239.8: Separation Canyon Rapid
Below Separation Canyon the river gets flat with minimal current – happy rowing! Outfitters typically have a jet boat meet trips at Separation Canyon for a fast, thrilling ride across the flatwater. If Lake Mead ever gets the river back into its original channel a couple more notorious rapids, Lava Cliff and Separation will reappear. This is where the Powell expedition split into two groups.
Mile 280.7: Pearce Ferry Take Out
Don't miss the take-out. Just downstream is Pearce Rapid a nasty drop that was formed as the river cut down through the sediment of the reservoir creating a new channel. Just upstream the canyon opens up signaling the true end to Grand Canyon.
FAQ's Grand Canyon Rafting
How many days is a Grand Canyon rafting trip?
Trips range from 1 to 18 days.
How many miles is a Colorado River trip through Grand Canyon?
The shortest trip is 35 miles and the longest is 270 miles.
Do you have to book a Grand Canyon rafting trip years in advance?
No, there are spaces on trips that go unused every year. One and two-day trips can be usually booked a week or two in advance. For longer trips it is best to plan at least couple months in advance. However, for groups larger than 4 people with a limited time window and a specific trip in mind it is best to book years in advance.
What is the most popular trip?
The 7-day motor full Grand Canyon trip is the most popular and common trip down the Colorado River.